43 meters tower is Symbol of Sakaiminato. Dining and playing area are inside of the tower.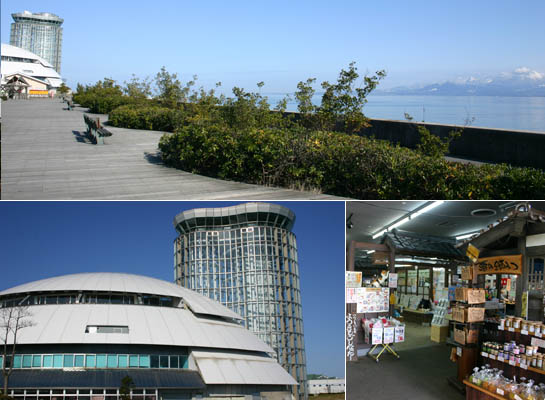 "Yumeminato Park" is used of the land after the Yumeminato Expo 97. 43 meters of Yumeminato tower is located inside of the Yumeminato Park. The top floor is an observation deck and is able to overlook 360 degree panoramic vision. Sea of Japan, Daisen National Park, Shimane peninsula, Sakaiminato Bridge, city of Sakaiminato, Yumigahama peninsula, Nakaumi, city of Yonago, and Kaike Onsen resort…Those all locations can be seen from the deck.
- Inside of Yumeminato Park/Yumeminato Tower -
◎Yumeminato shopping area at the first floor of Yumeminato tower, it is replicate the townscape of Taisho and Showa era, "Minatomachi shopping area" sells local products and specialties, and imported items from surrounded countries.
you will definitely find some souvenirs here. Also, the nostalgic taste of noodles is popular as well.

◎Tower café – "TOWER's CAFÉ" is at 4th floor of the tower. It is bright inside and best view of local areas. TOWER's CAFÉ gallery also opens to public.
Also the exhibitors are welcome. Looking at Nakaumi and enjoy your relaxation.

◎Green park Right next to horizontal sea. This is a seaside park looking at seasonal Daisen at far. Objet and board walk, made by wood, are decorated and bench seats are set up at sidewalk. It is perfect for a walk and feel sea breeze.

◎Spa pavilion across the deep blue Miho bay, open-air spa facility with an overlooking view of Daisen. Natural spring water comes from 1500meters underground and water contains sodium and Chloride spring. It is effective for Neuralgia, muscle soreness, cold sensitivity, wound, and burn. Phone 0859-47-3870.
Location
255-3 Takeuchi Danchi Sakaiminato, Tottori
Phone
0859-47-3800
Closed
The second Wednesday of every month (the restaurant close every Wednesday)
Open
April to September 9:00AM to 18:00PM / October - March 9:00AM to 17:00PM
Price
High school age and up: 300 yen (240yen)
Elementary school and junior high school 150yen (120 yen)
() is group rate more than 20 people.
* 1st floor shopping area and lobby are free admission.
Parking
YES
Access
30 min by car from JR Yonago Station
15 min by car from JR Sakaiminato Station
WEB
Yume Tower