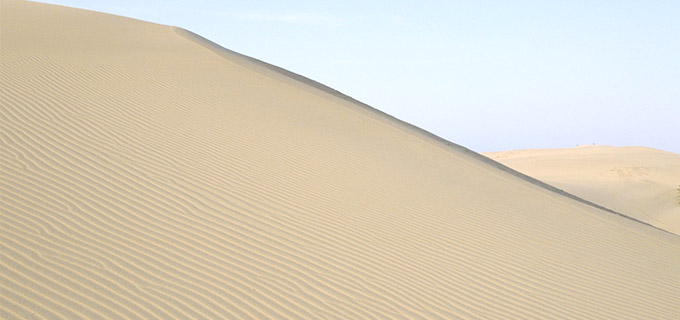 The largest tourist destination in Tottori, Tottori dune
Japan's largest sand dunes, Tottori dune, is located in Tottori city.
The vast sand dunes, 2.4km north to south, 16km east to west, large sand has spread. In the Tottori dune, there are different terrain there and some big one is 40m height difference.

If you climb such small hill, the sea of Japan is spread. Sea seen from the dunes is superb view, and especially the setting sun sinking into the sea is like watching a magnificent painting.
The wind blowing from the sea creating the pattern of sand to be drawn is called wind ripple, which produced by the natural figure is very artistic. Natural produced beauty attracts more attention of visitors.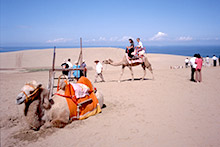 If you go to sand dune, it is nice to walk slowly with your feet first, however, in Tottori dune has tourist camels on site and you can also ride a camel.
By riding a camel at dune, as if you are traveling to another country and it is perfect for snap photos.
Outdoor activities in Tottori dune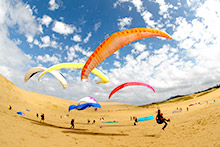 Is there anything else other than sand in Tottori dune?
Not only enjoy views at Tottori dune, but also there are also other ways to enjoy variety of activities.
Vast dunes without obstacles such as rocks or trees so that you can enjoy sports
Paragliding | Hang gliding | sand boarding ect...
Night dune illusion

Unlike the day time, night at Tottori dune turns into a magical atmosphere. During the summer time, white squid fishing lights shines on the sea horizon shows us the beautiful scenery as if the star in the sky fell in to the sea.
Also, the illusion is held in the winter Tottori dune. The dune is decorated with beautiful illuminations and become a popular among couples these days.
---
Location
Tottori city, Tottori
Contact`
City of Tottori tourism association
TEL 0857-26-0756
Web Tottori dune Kingdom of sand
Access
Take Tottori Sakyu line from JR Tottori Station.(Nikko/Hinomaru bus service)
Or take Kirin loop bus 26min from JR Tottori Station. *Saturday, Sunday, Holidays only.