This temple enshrine a person who was a foundation of Yonago.
Tragic legend is remained.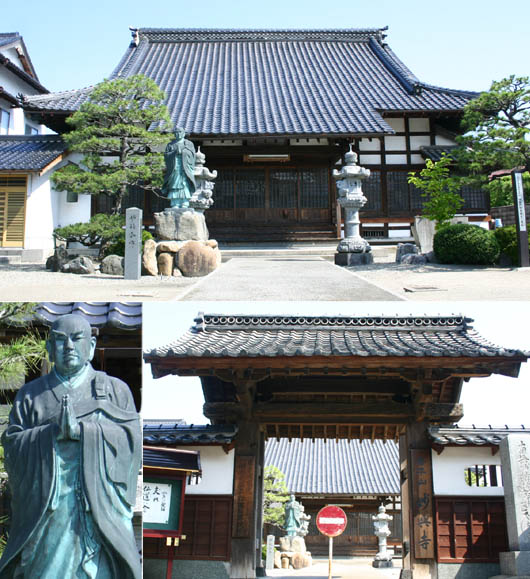 Myokoji Abstract
Saint Zuio Nittei Shonin was a one of the committee member who had dominated Osaka during Sengoku Azuchi Momoyama era, and a brother of Jogen Date who owned an oil manufacture studied under saint Kousou busshin nichikou who was second son of Jogen and also known as "natural monument big cycad". Saint Nittei became actively involved in missionary work for Lotus Sutra and moved to Yonago by ship. Because Yonago was undeveloped the time, he brought into construction materials and personnel from Sakai so that he can clear new land.
He established Myokoji in 1564 Mar 28th. Since then, Saint Nittei focused on missionary work as well as cultural exchange between Sakai until his death in 1604 when he was 89 years old.
A chief retainer of Yonago castle, Muraaki Yokota
Muraaki was assigned to take over the position of guardian and retainer of his young nephew, lords Kazutada Nakamura, by Ieyasu Tokugawa.
He demonstrated his remarkable knack for extraordinary merchants and artisans. He constituted Yonago 18 districts and constructed fences, riverscapes, and street in the districts.
He was a very intelligent Samurai.
Historic furor "Yonago castle furor"
Masaaki was murdered by Kazutada at instigation of the retainers who became jealous of his talent on 14th of November, 1603. He was buried at this Myokoji temple.
The Tokugawa Shogunate punished plotter retainers, and also ordered Kazutada to being placed on probation at Edo Shinagawa-shuku. Thereafter, Kazutada passed away suddenly at the age of 20 in 1609.Nakamura family vanished.
Location
46 Teramachi Yonago, Tottori
Phone
0859-22-3453
Parking
Yes
Access
5min. by car from JR Yonago St.
15min. by car from Yonago I.C