One of the once boasted Castle in Sanin
became one of the best view point after 100s years.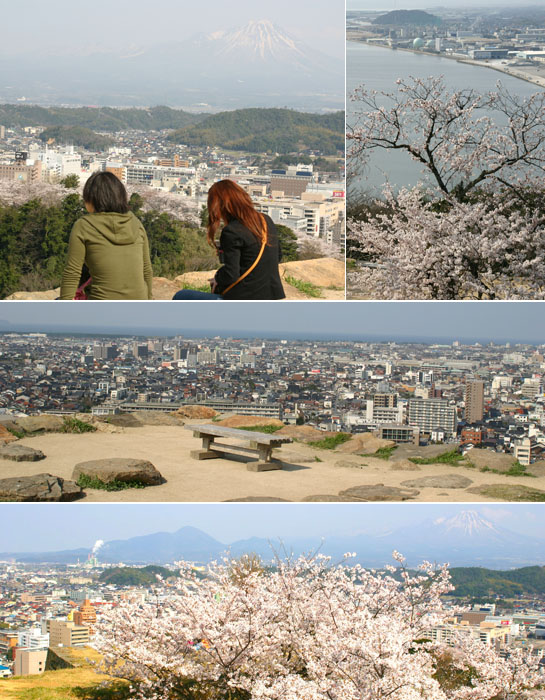 (History)
Hiroie Kikkawa, a Japanese daimyo of the Azuchi-Momoyama period through early Edo period, built four stories pagodas in 1591. After that, Kazutada Nakamura moved from Suruga province rebuilt to five stories pagodas and became a lord of castle.
However, Nakamura family has ceased in 1632. Top-ranking Samurai of Tottori province, Naritoshi Arao, was in charge of the castle. It was deconstructed soon after sold at a small fee in early Meiji era. Those pieces of castle were used as firewood of communal bath house. Only dry stones remain.
Looking over the city.
Dry stones reflect shadow of prosperity

Brilliant dry stones remain a shadow of Yonago castle and tell you histories. Even without the tower, it seems that it still protecting the city.
(Current)
Continued from Minatoyama park trails, climb the stairs, you will meet 360-degree vision of the world there is nothing obstructs.
Yonago city and Sea of Japan is on the north, blue Nakaumi is on the west, and spectacular view of Daisen is on the east.
Clear sunny day, Oki Island can be also observed across the Sea of Japan, the food of Shiroyama, locals love this place as much as Minatoyama park.
Like Minatoyama Park, this is one of the hidden cherry spots. By looking down cherry trees from the top, you will find the contrast view with Nakaumi and Daisen is very impressive.
Incidentally, Shiroyama has not only cherry but also varieties of seasonal flowers bloom.
Enjoy the hiking while looking for those flowers.
Please click here for introduction of flowers at Shiroyama.
Besides, the sun setting over Nakaumi from Castle is one of the spectacular views.
---
Nakaumi Sunset story
Ocean drama starts 30 min before sunset.
The sunsets over Nakaumi are often touching "magic".
Browse all as much as you like.
---
Yonago visitor information center (located in JR Yonago station) 0859-22-6317

Local tour guides will take you around Yonago downtown.
You will have exposure to nostalgic townscape and hearty locals.
---
| | |
| --- | --- |
| | Downtown tour by cruiseferry, The climax is the panoramic view of Nakaumi. |
---
Location
Kuecho Yonago, Tottori
Phone
0859-37-2311(Yonago City Tourist Association)
Parking
100
Access
5 minutes by car from JR Yonago Station
20 minutes walk from JR Yonago Station
WEB
City of Yonago historical site and ruins
保存
保存