Thi is a point of interest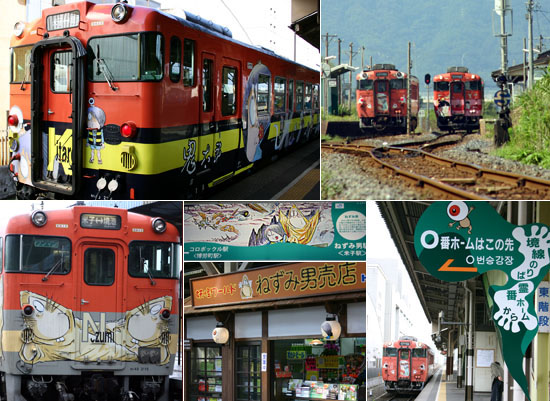 Kitaro train is departing from platform 0
Yonago station is hub station of railway netwarks to Sanin line and Hakubi line. Platform 0 is train stop for Sakaiminato line.
The train is painted lovely characters of Kitaro Family.
Now the trains in service are 4 different types by rotation.
Also, each 15 station along the line has its nickname of the Yokai throughout the country.
Yonago station is "Nezumi Otoko" and Sakaiminato station is "Kitaro Station"
Lets go to Sakaiminato, home of Yokai!
JR Sakaiminato line time table
※イラスト列車時刻表はコチラ(境港市観光協会ホームページ)
---
JR Yonago Station Sakaiminato Line
1
Kiosk is designed to Kitaro

Kiosk at 0 platform. The shop is also designed Kitaro.Kitaro items and Sanin local spcialties are on sale.

2
Taking picuture like Kitaro

Holed out on the Nezumi Otoko boad at the platform 0.Put your face in the hole and take a picture.

3
Nickname on the Yonago station is "Nezumi Otoko" station

JNickname on the Sakaiminato station is "Kitaro" station