Here we will offer some useful tips on facilities information as well as collections of secret items and best spots in spa resort. Looking into this pages prior to your arrival might make your stay a lot more fun!!
Tips for Onsen
Good news for bathing! Yumeguri no yado. (Spa tour)

Good news for bathing. Visitors can enjoy 20 different hot springs spas in Kaike Onsen Ryokan.

Fees and open hours vary each location.
For more information, click here.
The 100 a la carte found in Kaike

Kaike is a treasure house of 100 variety things. Because Kaike Onsen streets with modern buildings are harmony in a nature such as Sea of Japan and Daisen, this place was chosen as one of the "top 100 urban landscape ". Also, the sun rise of Daisen from seaside was selected as one of the "top 100 best Asahi (sun rise) spot in Japan". The Yumigahama coastline was selected as one of the "top 100 best beaches ". Likewise, the scenery spreading around the beaches was selected as one of the "top 100 Hakusha Seishou (best coastline scenery". Kaike Onsen bathing beach was selected one of the "top 55 (not 100) best bathing beach resort (currently 88)".
In August 2010, "Sea Breeze footbath" has opened! Overlooking the sea from this foot bath.
Yonegizu, image character of City of Yonago, benches are set up.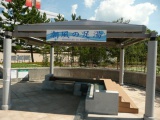 In a corner of the Kaike beach park, Ashiyu (foot bath) has opened. This footbath has a special feature of commanding a panoramic ocean view. This footbath was set up by Yonago city for the 110th anniversary of Kaike Onsen Footbath is 4.8m long, 0.5m wide and L-shaped. Up to 15 people can take a bath at same time. Since the water temperature is more than 60C, one may adjust the temperature by adding cold water.

In front of foot bath spa and along the sidewalk of Kaike park, Yonegizu, image character of City of Yonago, benches are set up.When the weather is nice, spend the day relaxing at this bench. One at the sidewalk of Kaike beach park, you will see the Shimane peninsula and the spray from the surf. You probably are sensible of the different seasons.
Good news for longevity? Shrine found in the Onsen town.
At the midpoint of Nijo st, where enter a pathway, you will find Kaike Onsen shrine which is protected by pine trees. As a guardian god of Kaike Onsen, if you make a wish to the god as its name "People Living", your longevity may get answered.
Kaike Onsen, the birthplace of Japan Triathlon (Ironman Triathlon).

Kaike Ironman Triathlon provides audience variety of sensational scenes. In fact, Kaike is the birthplace of Japan Triathlon. The road to a goal is named Triathlon Street and monument is also put into place. At the finish line, you might encounter a scene such as an athlete proposes his girlfriend with a ring as if it is a soap opera scene.
A garden in front of visitor center and beachside walkway are illuminated.

Beautifully illuminated gardens and walkways are creating a fantastic atmosphere.
Onsen resort area will be illuminated from sunset to 10 p.m.
Kaike Onsen; Walking and jogging on the beach.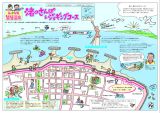 These are Okami and Danna (host)'s favorite walking and jogging course. Near the mouth of the Hino river, you will get a magnificent view of Daisen and even the tip of the Shimane peninsula can be observed as well if the weather permitting.
Download the map here.
A secret of the bowl-shaped beach in Kaike

Set up in the offshore, detached breakwaters prevent erosion of the beach. (Tetrapods) The phenomena, landform in which an island is attached to the mainland by a narrow piece of land such as a spit or bar is called Tombolo. Beach in Kaike, those several islands are tied together and creating unique landscape.
Shungetsu Ikuta Monument

The monument is located at beach park。
Shungetsu Ikuta was a popular poet, translator, writer and critic during the late Meiji era to early Showa era.
His famous poetry works are「霊魂の秋(Soul of Fall)」、「感傷の春(Emotional Spring)」
A significant achievement in research and introduction of Heinrich Heine.
His best friend and well known poet, Sakutaro Hagiwara, appraised him as a lighthouse of Japanese poets.
Father of Kaike Onsen, Shotaro Arimoto

Statue of Shotaro Arimoto is located on walkway at Kaike. He was the person who developed land and formulated urban planning in this area.
Also, he ensured hot springs to a more secured location and worked transportation planning to Kaike from Yonago station.
"Modern city planning" was formed and created remarkable Onsen resort.
Kaike Onsen Sohou museum reopened! Okami introduces tradition with "Hospitality."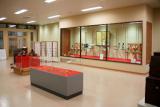 It is located inside of Yonago visitor center. "Sohou Collection" exhibits about 2000 items consist of Hina dolls, Gosho dolls, furnishing goods and woven goods and "Sohou Furusato Museum" exhibit about 100 items replaced monthly.
Okami who belong to "Kaike Onsen Okami-kai" are in charge of a guide. You probably enjoy hearing something interesting story.
The cherry blossom gardens under the guidance of experts, discover hidden cherry blossom viewing spots!

Behind the "OU land" where you can enjoy day-spa resort, there is a hidden cherry blossom view spots, "Kaike Onsen Sakuraen".
Someiyoshino and other cherry blossom trees took over from Mr Toemon Sano, who is a gardener specialized in Cherry blossom trees, are planted.
You can view over 20 different species of cherry blossom trees during April.
Contact
Phone : (0859)33-2051 Kaike Onsen Tourism Corporation.