A temple where a daughter who wished to reunite with her father.
Princess spent her entire life here.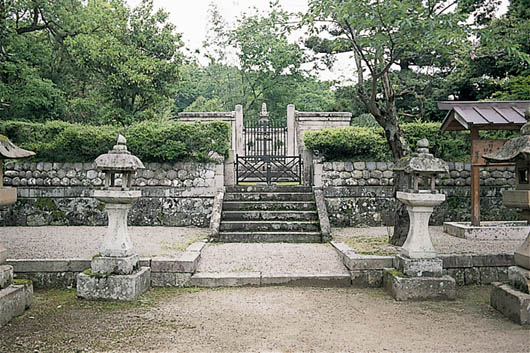 In 1332, when Emperor Go-Daigo was exiled to Oki Islands, his daughter, princess Naishino at her age of 16, attempted to accompany with his father. However, she was found and rejected.
At that time, princess decided to stay close to her father and moved into Yonago rather than went back Kyoto. She spent her short life of 24 years here in Anyoji.
Incidentally, in this place, she became and spent her life as a nun.
The Chrysanthemum Throne on the gate and roof in this temple is reminiscent of an imperial tomb.
「I will meet my father when chestnuts sprout appears.」
An anecdote tells such a touching story.
There is an anecdote about Hagataguri (teeth mark on chestnuts) related to Naishino remains in the Anyoji. The story is about…
「The teeth mark on chestnuts at Anyoji」
In the past, the Emperor Go-Daigo was expelled to Oki Island by Kamakura shogunate in March 1332, his sixteen years daughter was disguise and hidden in his companions. Once they arrived to Yonago and about to get in the boat, she was caught and told to go back to Kyoto. However, she insisted to stay in Yonago and stayed in Anyoji because this is located close to Oki Island where her father was expelled. Villagers took good care of her as she was a daughter of Emperor. When the chestnuts season came in fall, they probably said to her "you would better eat chestnuts and smile away your tears. Seasonal foods give you longevity until seventy five." Then, they brought a basket of chestnuts for her.
However, she has lifted nothing heavier than chopsticks, so she could not peel the skin of chestnuts. She finally got tired and bit the nuts instead. She buried the bitten nuts and make a wish to grow so that, she believes, her father to be back to her. She buried the bitten nuts and makes a wish it to grow so that, she believes, her father would be back to her. The very next year, surprisingly, it became true. This is the famous story that Emperor escaped from Oki Island and came back to Kyoto through Senjo Mountain. Although her father had returned to Kyoto, she satisfied living in Yonago and decided to relocate as a nun when she was eighteen. As it is called "Three years for peaches and chestnuts, eight years for Japanese Persimmons", the chestnuts she had buried had some nuts on the tree. Those had a bitten mark as well. Someone said the hagata guri (bitten nuts) were good for toothache, but the tree does not exist anymore.
| | |
| --- | --- |
| Location | 724 Fukuichi Yonago, Tottori |
| Phone | 0859-26-0562 |
| Parking | Yes |
| Access | 15 minutes by car from JR Yonago Station |