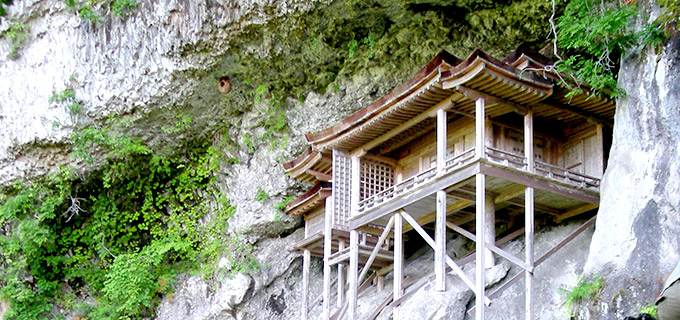 National treasure is located on cliffs of Mitoku Mountain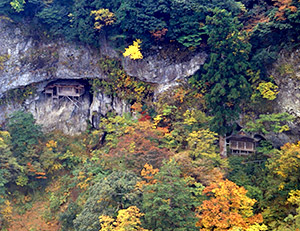 Nageiredo appears on the cliffs of Mitoku Mountain. Who and how it was built on such a place…
The temple built in perfect balance between the rocks is overwhelm the viewer and designated as one of the national treasures
Nageiredo was built when En no Gyoja visited, he built the temple at the foot of the mountain,
then threw it into the caves of the cliff with his strong power, so that it is called Nageiredo. (Throw in temple)
A number of training monks are visiting Mitokusan.

Because the road to the shrine is very harp and some ways are just a chain on the wall to climb up, it is harsh and tough challenge to get up.
Many visitors come to see the sight of the cliff located in a tough road.
If you are confident with your health, please try the tough challenge to climb up the mountain.
The approach to the Santoku mountain, there are also a few steep and dangerous points before climbing, so please pay extra attention when you go up.
pilgrimage information
Pilgrimage time 800am - 1700pm
Pilgrimage admission Adult 400yen・Elementary/Junior high school 200yen ※group 20 or more 50 yen discount
Nageiredo 800am - 1500pm
Nageiredo admission Adult 200yen・Elementary/Junior high school 100yen
---
Location
〒682-0132 1010 Misasa Cho Santoku Tohaku gun
Contact
Santoku mountain Sanbutsu Temple
Phone 0858-43-2666
Santoku mountain Sanbutsu Temple web
Access
40 min from Kurayoshi Station
50 min from Chugoku express way Injo IC
50 min from Yonago express way Yubara IC