The oldest Buddhism paintings were unveiled
Important temple site related with Hakuho Romantic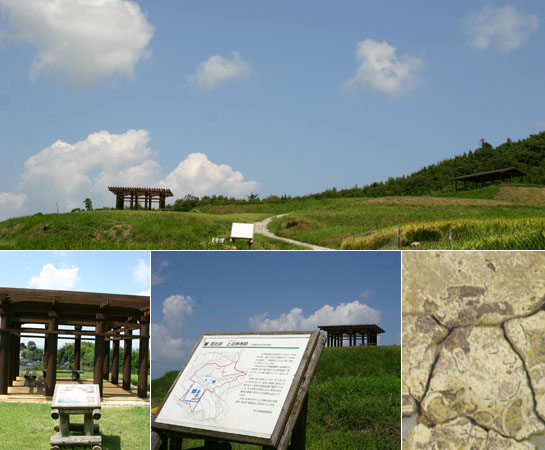 Around 600, on the eastern hill at Kamiyodo village, ancient temple was established and vanished within 300 years. It has been called "Kamiyodo Haiji" meaning of unnamed temple at Kamiyodo. The excavation investigation started in February 1991, and the oldest Buddhism paintings were uncovered in May. The paintings were portrayed on inside wall of a Mahaviral Hall by natural colors. It is believed that the Buddha folklore and natural landscapes have been painted. Approximately, 4,300 items are unearthed include 1,300 items of paintings, about 1,900 of Buddhism statues, and about 1,800 boxes of tiles.
Investigation in 1992, first in the nation, lined up the 3 buildings of Mahaviral Hall were uncovered and got attention through the country.
This is designated as National Historical Site as same as Mukibanda site. Many Yayoi period data were found.
Please visit and think about the ancient romance will make you feel importance of priceless history.
Lots of valuable items remain here in Yodoe.
First, the preparation of this place.
History museum with number of unearthed artifacts
Nearby location, "Yonago Yodoe Historical Ethnic Museum" displays paintings from "Kamiyodo Haiji", important cultural properties "Sekiba (Stone horse)", and artifacts from Tsunoda site. Since its opening in 1985, more than 300,000 archaeological fans are visiting.
| | |
| --- | --- |
| Location | 979-1 Yodoe Fukuoka Saihaku, Tottori |
| Phone | 0859-56-3316 (Yonago city Yodoe Histrical Ethnic museum) |
| Parking | Yes |
| Access | 35 min. by car from Yonago Airport 25 min. by car from JR Yonago Station |
| WEB | City of Yonago web Visitors guide "Ancient romance" |