Real life experience, such as make fire and pottery
Designated as National Historic Site, the country's largest Yayoi tombs.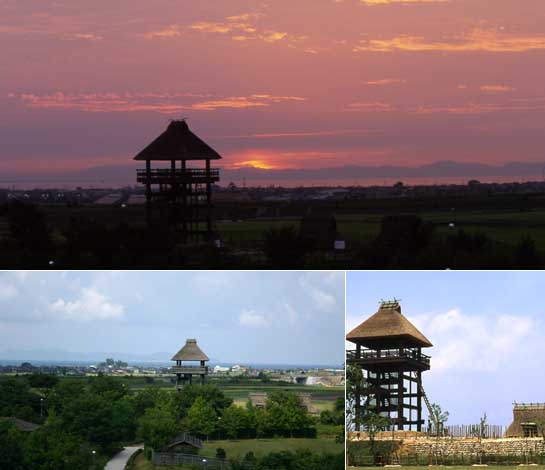 In the "Mukoyama tombs," there are 217 tombs including 2 Zempo Koen tombs (Circle shape front and square shape back), which are largest scale of density in entire nation.
Those famous tombs are from 5th century to 6th century and designated a National Historic Site in 1994.
Scallop style tombs in mid-tombs era have been restored and established 104 pairs of clay figures around them. You can overlook Sea of Japan and Yodoe plain from the 15meters height observation deck, and easily imagine ancient life style.
In the park, you can try ancient life style at "Kodai Taiken no Yakata", such as pottery, clay, terracotta whistle, burn off a field, and making fire experience.
Although it may not an easy process, you will have fun learning old life.
Variety of ancient romance still exist
40 different species of lotus flowers are decorated in the park.

Besides, especially noteworthy about "Kodai Lotus Park" where 40 different pieces of lotus flowers bloom in end of Jun to September. About 2000 years old "Ohga lotus" is blooming in the park.

Also, the park area is consist of "Hoki Kodaino Yakata" displays artifacts that were found in Mukoyama Heizan, "Manyo no Sono" displays collections of 109 different species of leaves and flowers appears in Manyoshu (Japanese poetic compilations), "Omatsuri Hiroba" is surrounded by greens, "Kodai Noen" experimental facility about ancient rice, "Kinen no Mori" plant trees at memorial ceremonies, and field athletic park (Nature park).
---
"Ancient Lotus Park" with 40 different pieces of lotus flowers blooms in end of Jun to August.
We will introduce those flowers with pictures. Early bloomers emphasize coming of summer. The park is covered with full of beautiful emotion.
---

I spy with my eye… small fall
Cosmos will inform you the fall has come.
After the lotus season, the season changes to fall from summer.
Cosmos will tell you the changing season. It covers all over the road in the park like a tunnel seems 'Cosmos Street'. Red, yellow, and pink flowers give you relaxing and healing moment.
| | |
| --- | --- |
| Location | 1529 Yodoe Fukuoka Yonago, Tottori |
| Phone | 0859-56-6817 (Houki Kodai no Oka Park (ancient hill park) management office) |
| Closed | Every 2nd and 4th Wednesday (or if it is a national holiday, we close the day after. 12/31 to 1/3 |
| Open | 9:30AM to 17:00PM (last admission 16:30PM) * Extra hours open early in the morning when lotus bloom season |
| Parking | Parking on Hakuho village |
| Access | 5min. from Sanin road "Yodoe" I.C by car |
| Price | Adult (over high school age) : 300 yen, Elementary or junior high school age:100 yen |
| WEB | Hakuho no Sato Houki Kodai no Oka Park |