Craftsmanship behind traditional festival Tottori
Umbrella with the warmth of the hand, the traditional Japanese need to be kept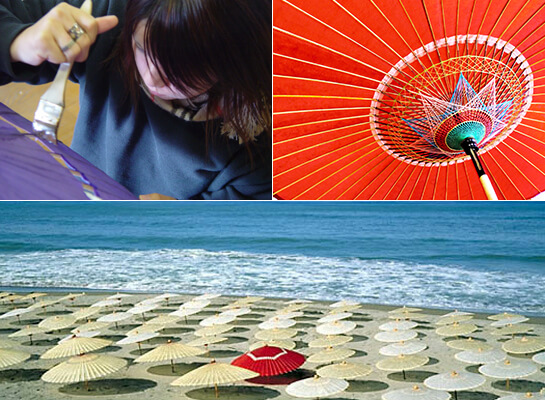 In 1821 is the beginning of its history that Shuzo Kurayoshiya moved to Yodoe from Kurayoshi and started the Yodoe umbrella shop. Major material of bamboo was easy to obtain locality, and also umbrella can be hang out to dry at sandy sediment of Hino River. There were 71 manufacturers and annual production of 170,000 in Taisho era, and was shipped all over west part of Japan. However, the productions were dramatically reduced and all the manufacturers were out of business in 1984.
Currently, Members of "Yodoe Folklore umbrella museum" have been keeping the tradition at their hands.
Contributed to the excitement of Shanshan Festival
Roadside with full of umbrella is traditional summer feature in Sanin
Every August, "Tottori Shanshan Festival" is held annually at Tottori city. Did you know what's actually being made in this place is used in one of its highlights "Umbrella Dance" Tottori's leading traditional festival.
They are contributing those carefully handcrafted umbrella into warm up the festival.
Craftsmanship, protect the treasure of the Sanin. It is the Japanese heritage must keep.
These umbrellas are in many different types such as day use, rain use, dance use, janome style and suitable as a gift. You wanna keep one for your interior design. You will miss raining.
In the facility, you may take a tour of the manufacturing process and do a craft experience (reservation required).
In this chance, please touch the delicate world of umbrellas.
Location
796 Yodoecho Yodoe Yonago, Tottori
Phone
0859-56-6176
Closed
Every Monday
Open
9:00AM to 17:00PM
Parking
10 spaces
Access
20 min. by car from Yonago Station
5 min. walk from Yodoe Station